Learn. Create. Share.
Building our community through technology and design.
Explore
Weekly Open House
Stop by any Thursday from 6pm - 10pm to hang out with us and check out the space! We do one weekly tour at 7pm.
We're Resourceful
Our members have 24x7 access to a large suite of expensive tooling that allows them to bring their ideas into reality.
We Don't Accept Jobs
We are a community workspace, not a job shop. See below for more information on how we operate.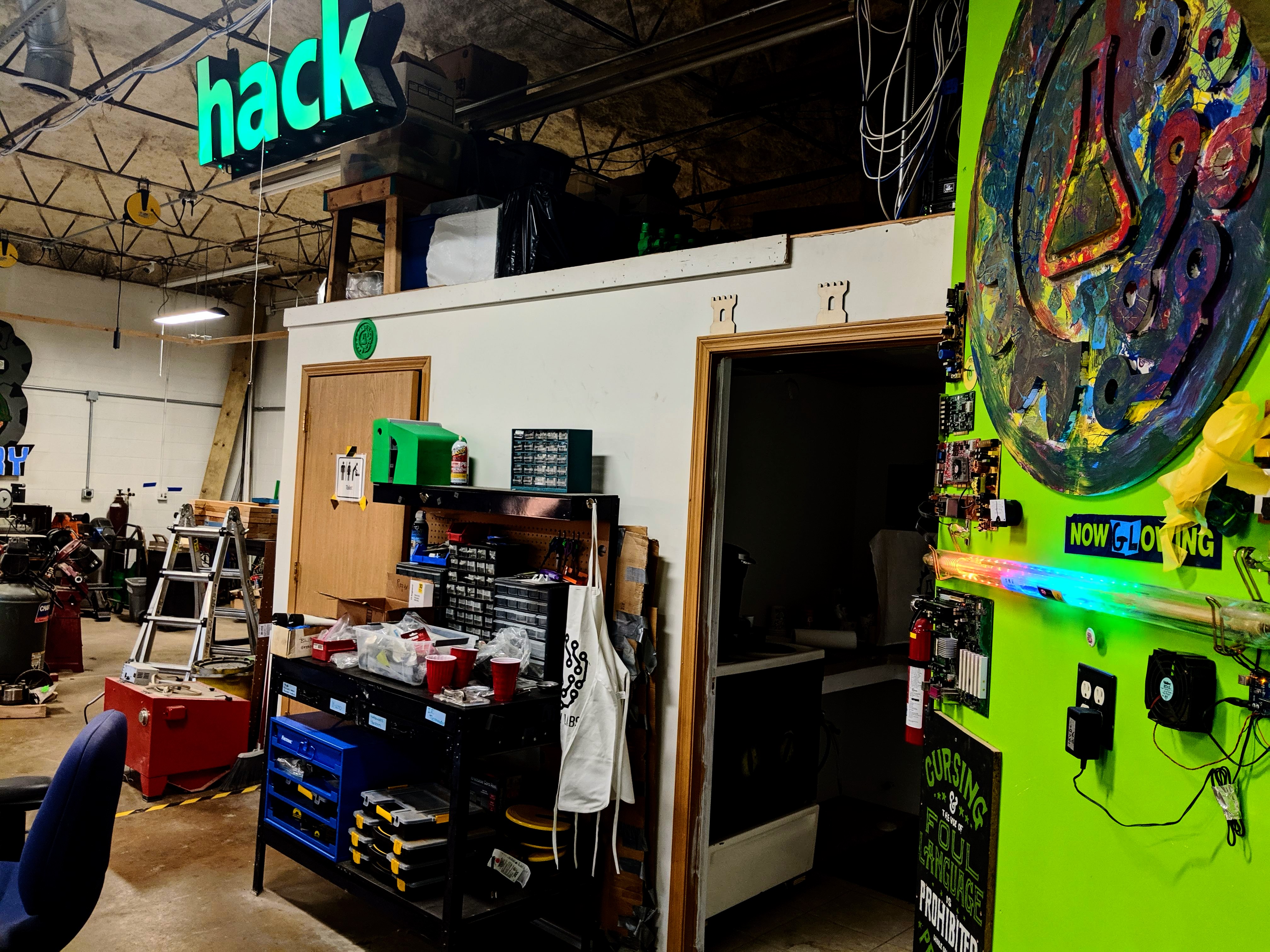 We're a Makerspace.
We are a community of makers, hackers, tinkerers, and creators who share a physical space, tools, and thoughts.
Our members pay monthly dues that go towards paying rent and maintaining the machines, in return they get access to the makerspace, its tools, and its resources whenever they need it. Tool availability is on a first-come, first-serve basis. Members also get access to our very active, private chat community, where the majority of our ideation and discussions take place. We also host several events throughout the year, our biggest being Midwest Makerfest, part of Ignite Peoria.
501(c)(3) Non-Profit Organization
River City Labs is a registered non-profit organization with the state of Illinois and the federal government, and have all the benefits that brings (tax write-offs for any donation *wink*).
Volunteer Run
No one at River City Labs gets paid. It functions completely off of our members' and officers' volunteered time and effort. We wouldn't be here if it weren't for our volunteers' dedication.
Lasers
Large custom 3' x 4' 90w CO2 laser, small chinese 8"x 10" 30w CO2 laser with auto focusing bed.
3D Printers
Two Taz 6 FDM printers, and a custom built FDM printer available. All printers have an Octoprint server for safe remote shutdown.
Wood Shop
3' x 3' CNC Router, Dust Collection, Planer, Table Saw, Band Saw, Drill Press, Mitre Saw, Panel Saw.
Metal Shop
CNC Syil X4 Mill, Grizzly Metal Lathe, Metal Band Saw, Mig/Tig/Stick Welder.
Electronics Lab
Soldering Station, Variable Power Supply, Oscilliscope, Electronical Components.
Recording Studio
Sound Deadening Room, Panel Mixer, Mics, Stands.
Computer Lab
Mobile Laptop Cart with several laptops available for use.
Vinyl Cutter
Make custom stickers and decals. Computer available with required software.
Private Chat
Our private chat group is very active and is great for sharing ideas and asking for help.
Online Community Access (Slack)
No building access
No access to internal classes
n/a
n/a
n/a
Signup
Online Community Access (Slack)
Limited Building Access - Full member must open the door for you
Discounts on certain classes
10% discount if paid anually
n/a
Signup
Online Community Access (Slack)
24x7 Building Access pending 30 day probation period
Discounts on all classes
10% discount if paid annually
n/a
Signup
Online Community Access (Slack)
24x7 Building Access pending 30 day probation period
Access for family in same household
Discounts on all classes
10% discount if paid annually
Signup
One time Donation to RCL
Eligible for Caterpillar Foundation Matching program for current employees and retirees!
Click Here for more information on submitting a Caterpillar Foundation match request
Donate
Contact Details
Feel free to reach out to us if you have any questions, one of our directors will respond to you when they get a free moment
7916 N Hale Ave, Peoria, IL 61615
Email: info@rivercitylabs.space